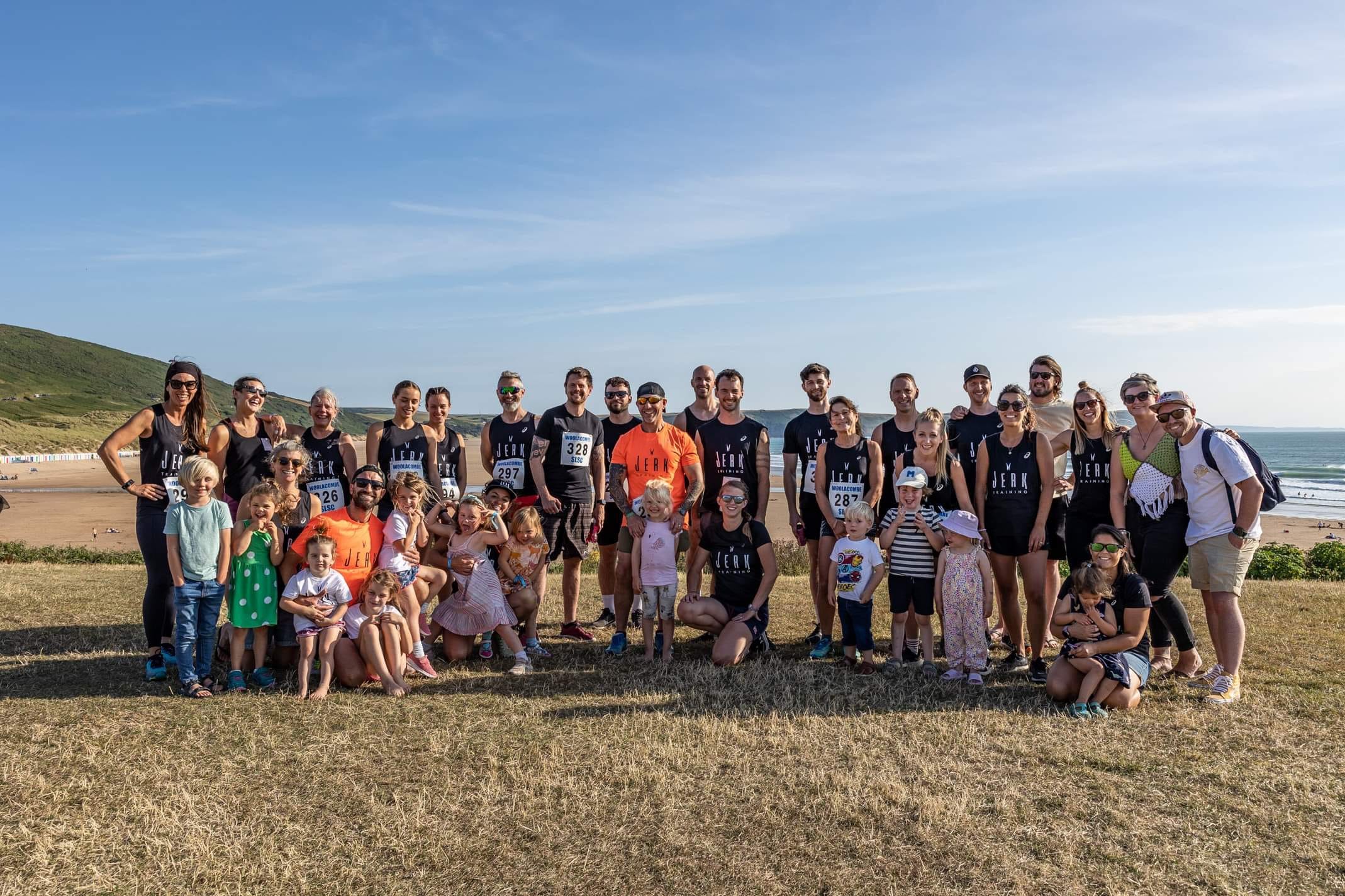 the jerk training family

"If you want to go fast go alone.
If you want to go far, go together."
Hello there, thanks for checking in on me.

I'm Jon, lover of the outdoors, my wife, my kids and peanut butter & jam sandwiches.

My mission is to help everyone get out of exercise and fitness what they personally need.

Be it a bit of headspace from work or the family, losing a bit of weight, or even getting stronger to carry the shopping home.

We all need our bodies to be functioning so we can enjoy our lives. But you know that, thats why your reading this. What makes what I offer different? Well, I hope I'm a nice guy to be around and want to help you on your journey to include fitness and wellbeing into your life.

There's no full stop* on our relationship with our bodies so let's get the most out of them and have some fun on the way.

What makes me be able to help you?

So here's where I list all my credentials for you to look at in awe.

Realistically, its all the other life experience that makes me better qualified to help you. I'm a dad of three young girls, I have been happily married for years and have plenty of experience of all the crap life can throw at you potentially similar to what you've been through too.

Still want to see a list? No worries, here you go:

L3 Practitioner in Personal Training
L3 Award in Sports Conditioning
Outdoor Fitness Certificate
Body FX Coach
L3 First Aid at Work
L3 Emergency First Aid at Work
SLSGB Surf Coach Safety & Rescue
UKA Leadership in Running Fitness
UKA Leading Athletics
ASA Level One Teaching Aquatics

There's more but I've either lost them or they're in a frame on the wall in my mums house.

Are you a professional athlete?

No, no I'm not. I never quite made it. I had dreams like lots of folks out there but never quite made the grade. However that hasn't stopped me enjoying in both organised and recreational sport my entire life.

I've got boxes of winners medals and plenty more participant ones in running, swimming, triathlon, football, athletics.
Some of my best (and worst) memories in life have been tied into sport in one way or another but not always competing.

Sport is about inclusion and don't forget the importance of the judges, volunteers, admin workers that are busy squirrelling away to put on these amazing times for everyone. I've been on this side my fair share too including one of my most treasured memories of volunteering at the London 2012 Paralympic Games.
You'll most likely still see me walking around in the coat even though at the time of writing this its 10 years old.

In summing up why I can help you its simply easier, like most things in life not to do it on your own. Lets crack on, eat food, get outdoors, exercise regularly and have a good time.






*well, there is one big full stop at the end but lets not talk about that right now.
AND THEN OF COURSE
THERE'S MATT
Hi I'm Matt, I love all the benefits of training whilst understanding this has to fit around the most important things in life such as family and work.

My mission is to use the power of the fitness community to engage people at every level to understand that you can make significant improvements in your life. I believe if you do this in a realistic way with support and knowledge anyone can improve their health, fitness and wellbeing.

Why do I exercise? I find in the first instance it is a little time to myself no matter how long or short to concentrate on your own wellbeing. I am a complete believer in the power of fitness and how setting a realistic structured plan can dramatically alter many of the pressures and stress modern life can present.

I have been working with Jon over the last 18 months and we realised we both have similar way of looking at things to do what we love and help other people achieve personal goals. I have seen that no matter what your fitness level, age, gender or personal circumstances with the right guidance you can achieve more than you thought.

So for me, most of my experience is vocational although I have picked up some bits of paper along the way.

I am Level 1 BAWLA qualified and was a competitive amatuer bodybuilder from 1992-1997, competing in the Mr & Miss Wales and EFBB South West and Wessex competitions.

Latterly I trained as a Physical Education Instructor in HM Prison Service and was trained as a powerlifting coach.

During my time in HMPS I was also trained as a hostage negotiator and worked with Category A and Dispersal Units.

In the last 10 years and as I head towards 50 my training has moved towards functional fitness as a way to ensure I keep my training varied and avoid injury. I can honestly say that with structure and hard work I run a better 5k, a better 15k, have lower BMI and am lifting better in the gym than I did when I was 25.

As time has progressed I have really seen the benefits of engagement with younger and older people.

I wish someone was around when I was 14 to help and guide me, I also want to show anyone 45+ that you can be in better shape now than your 20's if you really want to.